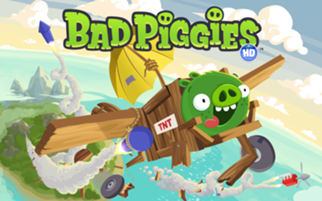 Bad Piggies is an Angry Birds spinoff game from Rovio Entertainment that was released on September 27th, 2012. The game's premise is that the player is on the Pigs' side and would have to build vehicles to get to the eggs, similar to Amazing Alex, Rovio's previous game, maneuvering around courses. It is currently available for iOS, nook, Android, Kindle Fire, Mac, and PC, with Windows 8 and Windows Phone to follow in the future. The game is free on Google Play, is $2.99 for iPad (HD) and $0.99 for iPhone.
The game has been stated to follow the imagination of a single Pig with freckles, referred to by fans as the Freckled Pig, whose hobbies are constructing both land and air-based vehicles.
Promotion
Edit
On August 27, 2012, the Bad Piggies made their own Facebook and Twitter accounts and started teasing readers that they have plans to reveal soon. On August 30th, Rovio posted a video on their YouTube during the [1][http://angrybirds.wikia.com/wiki/File:Bad_Piggies_-_Teaser_Trailer Bad Piggies - Teaser Trailer(00:33) 10,602 views]Bad Piggies TeaserRed Bird on a featureless white background, with pigs falling on top of him and the supertitle "Something PIG is coming" appearing on screen. After eight days of secrecy, on September 4th, the Pigs finally revealed their plans: a new game in which they are the stars. On September 17th, Yahoo! Games has revealed the game play for Bad Piggies. The main point is that you build vehicles (Cars, planes, etc.) out of various materials (wood, metal, etc.) then ride them and try to collect things such as stars, and possibly eggs. The following day, the TV show X-Play made a preview of the game showing more of the game. On September 27th, the game was released on iOS, Android, and Macintosh, with PC releasing later in the day
Section heading
Edit
Write the second section of your page here.